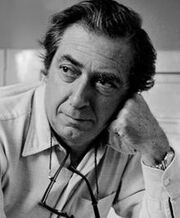 "A Sad Tale" has the subtitle "ostinato", which referes to the repetitive left hand accompaniment. Students need to be aware of the articulation in this accompaniment. The melody is often on the top of clusters so that voicing becomes a very important aspect of this piece.
Composer/Publisher Information
Edit
Biographical and other information about Norman Dello Joio can be found here
"Suite for the Young" can be purchased here
Dr. Alan Huckleberry, Associate Professor of Piano Pedagogy, The University of Iowa School of Music  www.alanhuckleberry.com
Ad blocker interference detected!
Wikia is a free-to-use site that makes money from advertising. We have a modified experience for viewers using ad blockers

Wikia is not accessible if you've made further modifications. Remove the custom ad blocker rule(s) and the page will load as expected.