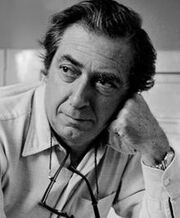 In the words of the composer: "In this little study, do not count - - let the ear determine how to achieve the echo effect." While technically possibly the easiest of the entire set, "Echoes" is musically a fascinating composition.  Student will absolutely need to listen carefully, and use their imagination to successfully perform this piece. It is a wonderful first atonal piece for a young pianist, as it necessitates a heavy dose of performer input.
Composer/Publisher Information
Edit
Biographical and other information about Norman Dello Joio can be found here
"Suite for the Young" can be purchased here
Dr. Alan Huckleberry, Associate Professor of Piano Pedagogy, The University of Iowa School of Music  www.alanhuckleberry.com
Ad blocker interference detected!
Wikia is a free-to-use site that makes money from advertising. We have a modified experience for viewers using ad blockers

Wikia is not accessible if you've made further modifications. Remove the custom ad blocker rule(s) and the page will load as expected.