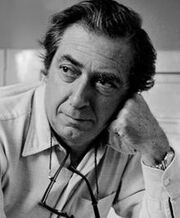 "Mountain Melody" beautifully introduces the listener and performer to Dello Joio's musical language, which is reminiscent of Copland's Americana style. This pastoral little piece requires a delicate touch and a good sense of balance between the hands, as the melody is alternated back and forth.
Composer/Publisher Information
Edit
Biographical and other information about Norman Dello Joio can be found here
"Suite for the Young" can be purchased here
Dr. Alan Huckleberry, Associate Professor of Piano Pedagogy, The University of Iowa School of Music  www.alanhuckleberry.com
Ad blocker interference detected!
Wikia is a free-to-use site that makes money from advertising. We have a modified experience for viewers using ad blockers

Wikia is not accessible if you've made further modifications. Remove the custom ad blocker rule(s) and the page will load as expected.