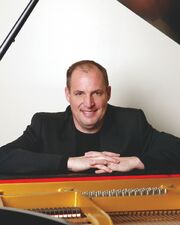 Agility remains the most important aspect of this piece. Along with this comes the need for clarity and smoothness. The hands are constantly changing positions and frequently cross over one another. This is challenging for beginning pianists, especially when playing at a fast tempo.
Running eighth notes dominate this piece. However, short interruptions of staccato thirds appear, creating the sound of honking horns. The articulation is also important for capturing this composition's vibrancy.
Composer/Publisher Information
Edit
Mouse on a Mirror can be purchased here
Caroline Krause, Iowa Center for Research by Undergraduates Fellow
Ad blocker interference detected!
Wikia is a free-to-use site that makes money from advertising. We have a modified experience for viewers using ad blockers

Wikia is not accessible if you've made further modifications. Remove the custom ad blocker rule(s) and the page will load as expected.