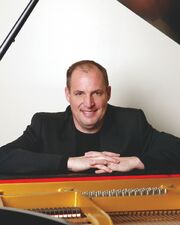 The energy level is high in this vibrant piece. The left hand is in E major, and the right hand is in a C major position, creating a unique sound from the very first notes. The articulation also adds to the vivacity. Two-note slurs and staccato notes keep the music sounding perky. The indicated tempo is quite fast, making good technique and agile fingers a necessity. All of the eighth notes need to be particularly even. 
Composer/Publisher Information
Edit
[http:// http://www.phillipkeveren.com/about.html Biographical Information ]
Musical Moods can be purchased  here
Caroline Krause, Iowa Center for Research by Undergraduates Fellow
Ad blocker interference detected!
Wikia is a free-to-use site that makes money from advertising. We have a modified experience for viewers using ad blockers

Wikia is not accessible if you've made further modifications. Remove the custom ad blocker rule(s) and the page will load as expected.