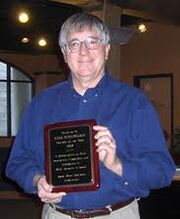 "Inspector Me" is a nice choice for young pianists who are good at counting. Numerous oddly placed rests interrupt the flow of music, and teachers should make sure they do not also impede one's counting. Also, there are some tied whole notes that are easily and unknowingly shortened. They should be held for their entire length. One disadvantage of this piece is the lack of dynamic markings. Teachers may want to include more suggestions for dynamics to further challenge the students and help them be musical.
Caroline Krause, Iowa Center for Research by Undergraduates Fellow
https://www.youtube.com/watch?v=WN8V-JtYoy8&index=5&list=PL2BX2wJ-lJxgEo1V8gInAYWDz1N7u5lEz
Ad blocker interference detected!
Wikia is a free-to-use site that makes money from advertising. We have a modified experience for viewers using ad blockers

Wikia is not accessible if you've made further modifications. Remove the custom ad blocker rule(s) and the page will load as expected.