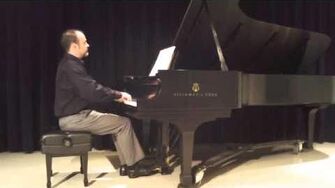 As implied by the title, this piece focuses on creating long, singing melodic lines. The melody and accompaniment are clearly differentiated. Though the left hand has more motion, consisting primarily of eighth notes, the right hand needs to be voiced louder. Student should focus on a legato touch, dynamics, and good fingering.
Caroline Krause, Iowa Center for Research by Undergraduates Fellow
Ad blocker interference detected!
Wikia is a free-to-use site that makes money from advertising. We have a modified experience for viewers using ad blockers

Wikia is not accessible if you've made further modifications. Remove the custom ad blocker rule(s) and the page will load as expected.