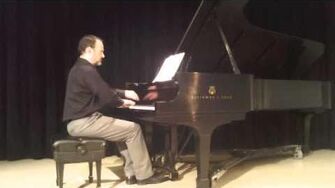 Perhaps to portray the depth of Lake Geneva, most of this piece takes place in the low register of the keyboard. Students will need to be comfortable with playing the right hand in bass clef. The accompaniment subsists mostly of broken fifths and sixths, though they can be challenging because they move around frequently. The melody should be smooth and legato. It needs to speak clearly above the accompaniment, which is especially important because of their closeness in hand positions.
Composer/Publisher INformation
Edit
Complete bio can be found at http://www.alfred.com/Company/Authors/TedCooper.aspx
Around the World in 88 Keys is available through Alfred Publishing, 2006.
http://www.alfred.com/Products/Around-the-World-on-88-Keys-Book-2--00-24434.aspx
Caroline Krause, Iowa Center for Research by Undergraduates Fellow
Ad blocker interference detected!
Wikia is a free-to-use site that makes money from advertising. We have a modified experience for viewers using ad blockers

Wikia is not accessible if you've made further modifications. Remove the custom ad blocker rule(s) and the page will load as expected.