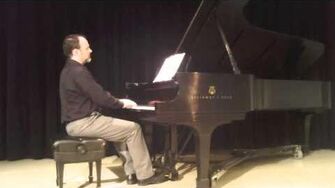 "Red Square" is great for students who enjoy playing a variety of musical styles. The beginning and ending are vivacious and fast, while the middle section is full of serenity and repose. Observing the changes in articulation helps to differentiate the various moods. The staccatos and two-note slurs should contrast as much as possible from the flowing legato lines. Students ought to also strive to make a distinction between the piano and mezzo piano dynamic markings.
Composer/Publisher Information
Edit
Complete bio can be found at http://www.alfred.com/Company/Authors/TedCooper.aspx
Around the World in 88 Keys is available through Alfred Publishing, 2006.
http://www.alfred.com/Products/Around-the-World-on-88-Keys-Book-2--00-24434.aspx
Caroline Krause, Iowa Center for Research by Undergraduates Fellow
Ad blocker interference detected!
Wikia is a free-to-use site that makes money from advertising. We have a modified experience for viewers using ad blockers

Wikia is not accessible if you've made further modifications. Remove the custom ad blocker rule(s) and the page will load as expected.