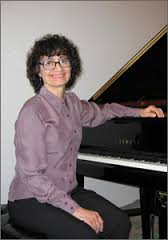 In Prelude for Virgo, the melody is passed from the right hand in the first section to the left hand in the second. The alternate hand provides a simple octave accompaniment, which should be kept extremely light and not draw attention away from the melody. The simple structure and melody of this piece makes it relatively easy to play for an intermediate student, so students should focus on shaping and phrasing of the line. 
This piece is from the collection "Astrological Preludes", Frederick Harris Music, 1995
Jennifer Brooke, undergraduate piano major, The University of Iowa
Ad blocker interference detected!
Wikia is a free-to-use site that makes money from advertising. We have a modified experience for viewers using ad blockers

Wikia is not accessible if you've made further modifications. Remove the custom ad blocker rule(s) and the page will load as expected.