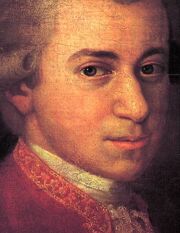 This contredance by Mozart is a brief piece perfectly suited to intermediate students still adjusting to contrary motion. The duet between voices in the second section present an opportunity for students to experiment with voicing.
A simple binary form, parallel motion between melody and accompaniment, and cheery arpeggios, this fun piece is a good choice for beginning intermediate students.
Jennifer Brooke, undergraduate piano major, The University of Iowa
Ad blocker interference detected!
Wikia is a free-to-use site that makes money from advertising. We have a modified experience for viewers using ad blockers

Wikia is not accessible if you've made further modifications. Remove the custom ad blocker rule(s) and the page will load as expected.