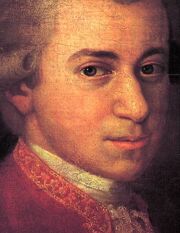 The marking for this minuet is grazioso, meaning that it should be played in an elegant and graceful manner.  The light accompaniment in the left hand helps keep the piece airy and flowing. The right hand articulation should be crisp and consistent throughout. Since terraced dynamics are effective in this minuet, teachers may wish to explain this concept to their students and help them make stylistic dynamic choices. This is a great piece for small hands because none of the reaches are extremely large.
Caroline Krause, Iowa Center for Research by Undergraduates Fellow
Ad blocker interference detected!
Wikia is a free-to-use site that makes money from advertising. We have a modified experience for viewers using ad blockers

Wikia is not accessible if you've made further modifications. Remove the custom ad blocker rule(s) and the page will load as expected.